Our superstar teacher, Cecilia, does not teach every day at EC but nor does she teach about everyday things! She tries to cover more off-the-grid topics that might not fit into the usual General English classes at our Washington ESL School. So, we leave open some of our free academic workshops so that Cecilia can come in and show our students something special.
Last week saw the 50th anniversary of the Moon Landing, a celebratory date that means a lot in US history. As we are in Washington, a stone's throw from the National Air & Space Museum, it seemed fitting to incorporate the anniversary into our weekly free workshops.
Cecilia devised a class that included vocabulary and teaching points relating to the US and its history of space travel. Students got to learn idiomatic vocabulary, such as 'out of this world', find out more about US history, and then exercise their communication and team-building skills with the famous "Egg Drop Challenge".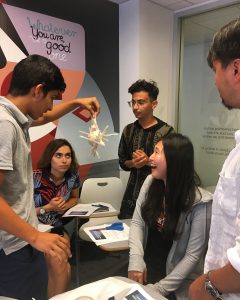 What is the Egg Drop Challenge? Students must work in teams to build the perfect egg-protection device – they are given tools and materials (lovingly provided by Cecilia herself), a budget, and a time limit. Groups were also allowed to give their models names and compete against each other. Then, the eggs are dropped from a height of about 7 feet – the winner is decided by whichever design cost the least while still protecting the egg.
Our students had great fun and more importantly learned a lot during the class. It helps us improve our English when we can forget about the stress and pressures of the classroom and just enjoy ourselves while using the language. Our students certainly felt they developed confidence and fluency while also getting to know each other outside of their regular classes.
So this is what you can expect when you take classes with us at EC Washington: free bonus classes to enrich your studies and improve your experience! Find out more about our programs by calling 202-695-7353, emailing washingtondc@ecenglish.com, or visiting us at 1025 Connecticut Avenue NW.  
Comments
comments