Summers in Washington, DC, can be quite brutal. One minute, you find yourself looking for shade as the hot sun beats down on your shoulders; the next minute, you're looking for shelter from a sudden thunderstorm. A typical summer in Washington Dc can see glorious sunshine and heavy rain all in the same afternoon. It's part of the experience of studying in DC that our students must acclimatize to the weather, as well as to living in the US and speaking English.
With that in mind, Washington DC is also a beautiful place to spend your summer months. At EC Washington, we organize outdoor activities for our students to enjoy their surroundings and make use of the lovely green spaces Washington DC has to offer. Last month, we took students to nearby Dupont Circle as well as the local Meridian Hill Park. Our students always make these occasions fun and friendly for everyone – board games, card games, frisbee, a bit of soccer, and a lot of speaking English! We find students can relax outside of the classroom and enjoy using the skills they have learned in their classes.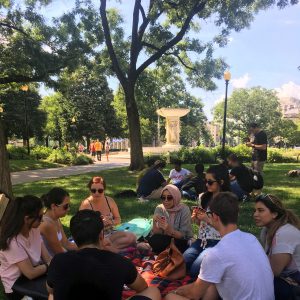 In August, we will be planning more park outings such as these. We are always looking to provide our students with an experience that goes beyond the classroom and helps them learn about local life in the USA. This also includes neighborhood walking tours – for example, the nearby Adams Morgan with its trendy cafes and restaurants – and most of the activities are completely free. Are you in Washington DC and would like to explore the city with international students? Join us on one of our future activities! All guests are welcome.
We have just launched our August activity calendar – if you would like to receive a PDF copy and join us on some of our summer activities, please email us at washingtondc@ecenglish.com or call 202-695-7353.
Comments
comments