What could be better than learning English to better yourself? How about learning with others, with like-minded souls who want to improve their skills too, and who come from all over the world and can show you a different perspective! That's what you will find on offer at EC Washington, where students come from every corner of the globe to improve their English language skills and learn about the world around them. English lessons in Washington are supposed to be a collaborative effort, right?!
Our students may come from Spain, Brazil, Turkey, or literally anywhere! The countries I just mentioned are good examples – take a look at our wonderful students Aleyna, Celia, and Thales, taking time out of their afternoon to catch up on their homework and work together in one of our beautiful classrooms – this one was our famous psychadelic Lincoln backdrop!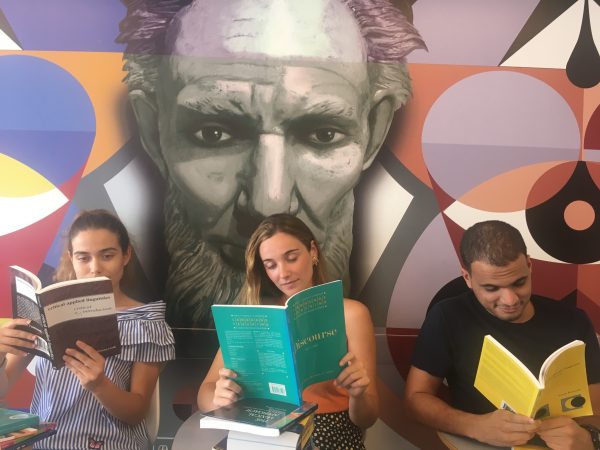 It's always a positive sign for a learning community that students want to stay after class finishes, remain in the school environment, and continue working together with their classmates to enrich their experience together. We are lucky that our community is so strong and made up of wonderful people, but we also take pride in presenting an environment where students feel comfortable and welcome, and indeed they feel like they can make the most of their language learning experience.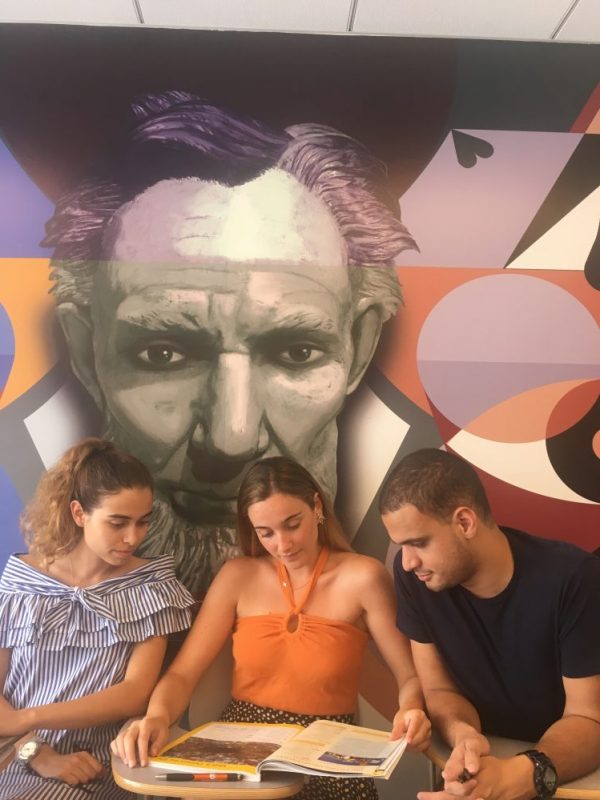 Using the 'communicative method', we make sure that interacting with classmates is a vital part of the student experience at EC. It makes everything more engaging and helps us all learn quicker. If you are looking to improve your English and find a class that is right for you, just get in touch with us!
To learn more about our English language courses, there are several ways to get in touch:
Call us at 202-695-7353 
Email washingtondc@ecenglish.com 
Visit us at 1025 Connecticut Avenue NW, Suite 701.
We would be delighted to welcome you to our school for a free tour and trial class, so get in contact with us today!
Comments
comments