Need another reason to learn English in Washington? Read on!
The Newseum is one of DC's finest museums… we do have a lot to choose from! Unlike the vast majority of the museums in DC, which are managed by the Smithsonian, the Newseum is privately-owned, so you have to buy tickets for $25. In my opinion, it is well worth the entry fee! However, what if you are an EC Washington student? Well, then you can get to see this incredible museum for FREE! Yes, it's true: EC organizes field trips to this museum free of charge, so students can get to explore the history of world journalism and media without spending a penny. It is also a beautiful building located very close to our school center, which is next to Farragut Square in downtown Washington, DC, the heart of our nation's capital!
Yesterday, our Upper Intermediate class took the trip with teacher Renee.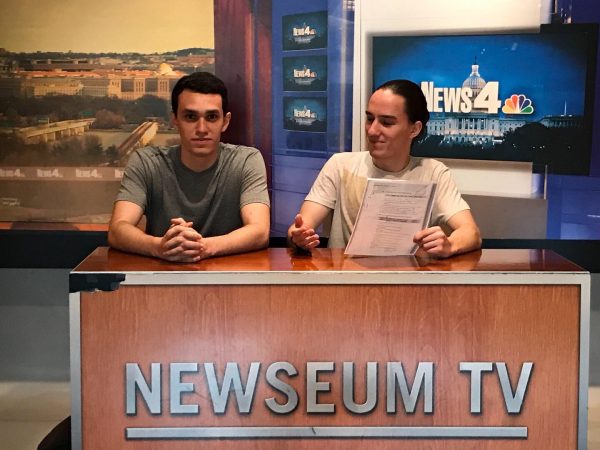 Above, you can see Muhammed from Turkey and Gustavo from Brazil doing their best impression of TV news anchors; the Newseum has an exhibit where visitors can pretend to give a live broadcast and have it presented on televisions in the museum. Pretty cool!
In addition, the exhibitions give visitors remarkable insight into the world of media and how news is presented; this is an enriching experience for international students in particular, who can compare the way the media works in the US with their own countries.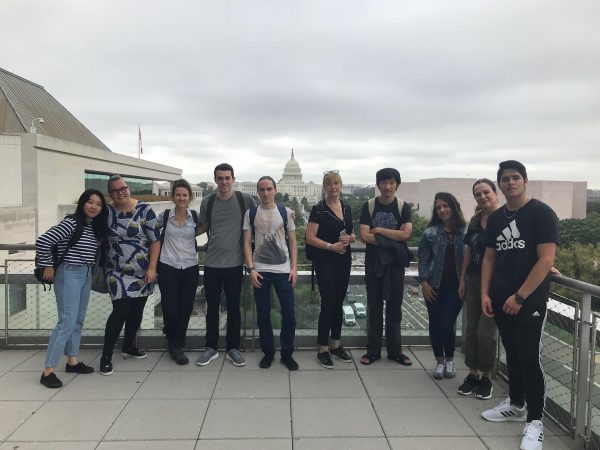 At the end of the field trip, students were able to pose outside on the Newseum's balcony, taking in an incredible view of Washington's distinctive city skyline. unfortunately, the weather was somewhat overcast, but you can just about see the Capitol building in the background! The Newseum offers one of the bets vantage spots for seeing the city in all its glory.
So, do you have enough reasons to visit Washington Dc and improve your English yet? 🙂 Come find us at EC Washington and get in touch at washingtondc@ecenglish.com so you can join social activities such as these!
Comments
comments