Fridays are bittersweet at EC Washington. Of course, we are all ready for the (extended!) weekend after a solid week of language learning in the nation's capital, but Friday is also the last day for our students who are finishing their courses. It means we say goodbye to some special people as they take the skills and understanding they have developed during their time with us back to their home countries, ready to make the most of their work or personal lives using their new English language skills that they developed at their Washington English Center.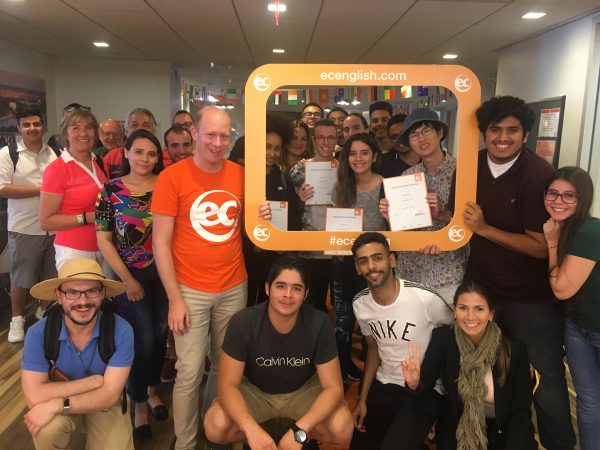 This week, seven of our wonderful students said their goodbyes to classmates, staff and teachers. Our graduates included:
Elizabeth, a World Bank employee from Mexico who will continue living and working in DC and making use of her English skills in a professional setting.
Ryotaro, a lovely young man from Japan who heads back to university – after a weekend trip to New York to finish his summer traveling experience!
Lucas, a gentleman from Belgium who also needs to complete his college studies. He graduated at the Pre-Advanced level!
Nadia, a really kind hearted student, studied with us for only two weeks but returns to her native Germany with more confidence and fluency, as well as a worldly outlook!
Alba, a two-week student who found us during her short vacation in DC, returns to Brazil to go back to work and back to reality.
Maria Paula, a Brazilian woman who we enjoyed having study with us for 3 weeks.
Angels is one of the true 'short-termers' – she was only here a week! But she graduated with a big smile and lots of really nice comments about her stay with us.
All of these students were short-term, having been here for only 2-3 weeks each, but they joined their longer-term classmates and made the most of their time with us to accomplish their goals. Our school is ideal for international students, whether you are here for one week or one year, and everyone becomes a part of our learning community. Join us, won't you!
Comments
comments