When it comes to Washington DC's many famous (and free) museums and galleries, there are so many to choose from and everyone has their own favorite sights to visit and revisit. There is no shortage of options on our doorstep at our Washington language center in downtown DC: the Museum of African American History and Culture, the Natural History Museum, the Air & Space Museum, the National Art Gallery, and more. One can spend an entire day at any of these institutions. This is especially true of the US National Holocaust Museum, an incredible museum that brings provides a vital link with the past for young people to gain insight into the horrors of the Second World War and a reminder of a sombre and devastating period in human history.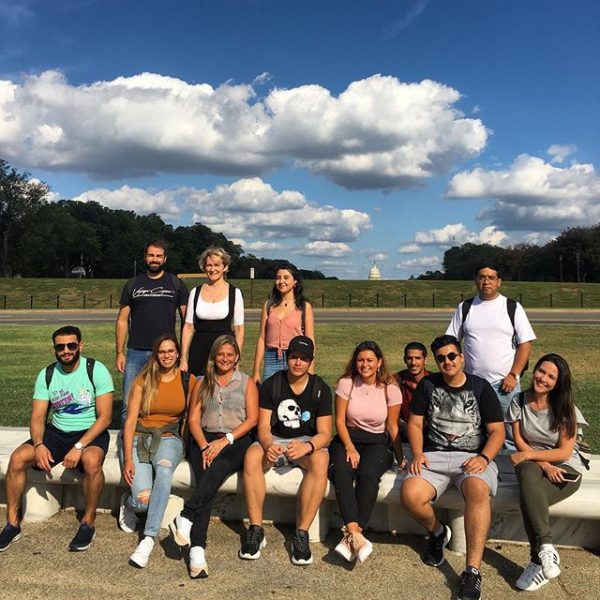 Our students at EC Washington set aside a Wednesday afternoon to take in the museum, which is free admission and located just 15 minutes walk from our school center at Farragut Square. EC Washington students were a credit to their school as they respectfully observed the exhibits and took the time to appreciate the significance of the events on display. We are proud that our students represent the school with such decorum and showed such a respectful curiosity about the events of the Second World War. It was certainly an informative experience for our students, who also took in a fine autumn day in the National Mall (above) on their way to the museum, and who came from countries as diverse as Venezuela, Saudi Arabia, Brazil, Switzerland, Ecuador, Mexico, Russia, and Italy.
EC Washington is located at Farragut Square, in the heart of the nation's capital, making after-class outings such as these convenient and accessible to everyone. Our staff are knowledgeable and love showing Washington's world-renowned heritage and culture to our students, who benefit from using their English in social outings, developing friendships and gaining knowledge and insight into the world around them as well as the local culture. These activities are all part of the immersion learning experience and another example of why EC Washington is the premier ESL school in the Washington Metropolitan Area.
Comments
comments