Our internationally diverse student group is home to English learners from every corner of the world, and our friends from Saudi Arabia are always a lively and lovely part of that group. Monday September 23 saw the celebration of Saudi National Day and our students really got into the spirit of the day by celebrating together as a school with delicious Arabic food, sweets, music and fashion. Our Saudi students prepared so hard for this event and it was a delight to see the results of their hard work. These kinds of social activities are actually a key part of any Language Study Washington program!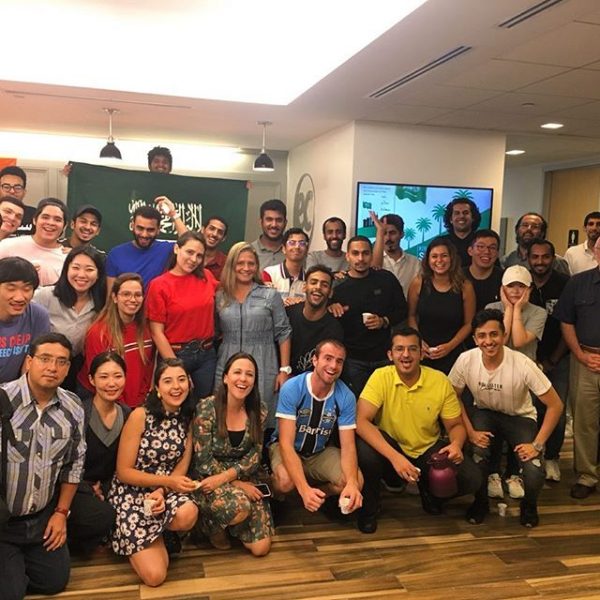 Saudi culture is known for its beauty, intricacy of design, celebration of friendship and family, and, of course, its incredible cuisine! We enjoyed all of these qualities on Saudi National Day at EC Washington, where students come to improve their English skills while developing connections with like-minded international students. Saudi National Day celebrates the unification of the Saudi Royal Kingdom and it was easy to see how proud our Saudi students are when it comes to sharing their national culture with their classmates.
A particular shout out goes to EC's student ambassador Yasser, who took the lead in preparing the food and also amped up the affair by wearing traditional Suadi dress, bringing in a huge Saudi flag, and putting on some quintessentially Saudi music. The bets part? He taught his international classmates how to dance in the Saudi style! It was so uplifting to see our students smiling, laughing, and dancing together, and it was a great way for our classmates to exercise their English in a social situation.
These events are just the cherry on top of our award-winning English language learning program. If you'd like to find out how you can join our incredible learning community, do give us a call at 202-695-7353 or email us at washingtondc@ecenglish.com.
Comments
comments