Fridays are always emotional at EC Washington, our Washington DC English School. Not only is it the end of the week, it is also the end of the learning journey for graduating students. This means we have to say goodbye to students who have studied with us and become a part of our community, which means speeches, tears, hugs and love.
Last Friday we saw three students graduate, and each one was a big part of our community here at EC Washington.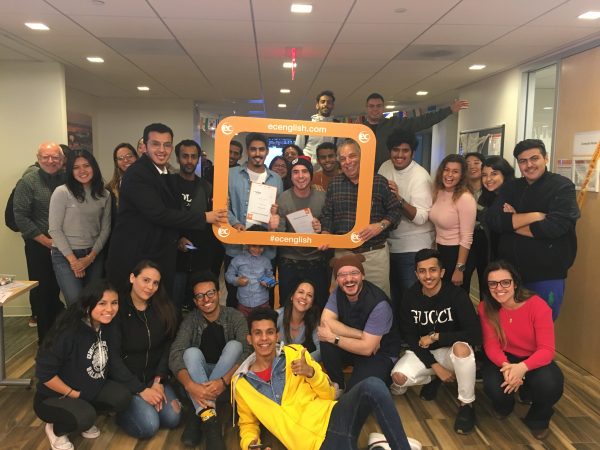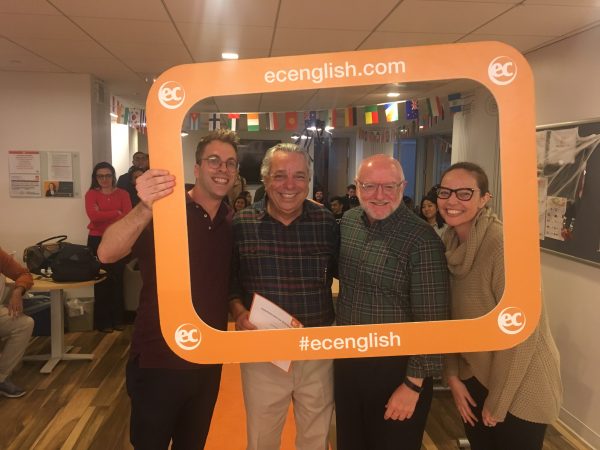 There was Nouh, from Saudi Arabia, who studied with us for 48 weeks! A real gentleman, Nouh represented his country with class and dignity during his time with us. His teachers loved seeing Nouh grow from a Beginner student all the way to Intermediate; he goes back to his country with a much improved English and real-world skills that will help him in his career and his life.
We also had Celso, another gentleman, from Brazil. Wow, Celso is such a nice guy. He has his own business in Orlando, Florida, but decided to come to Washington to improve his English. He also started as a beginner and he worked so hard with his teachers, Yesenia, Natasha and Michael, to reach his goals. We will stay in touch with Celso and be friends forever, such was the impact he had on our school. He even bought pizza for all of his classmates on his last day! Even more than that, he bought gifts for all his teachers…. thank you so much, Celso!
Finally, Christopher… this guy. What a character. He was with us for 6 months and also started in Beginner level. Not only did he work very hard, he was so personable and so popular with his classmates and school friends, who all loved hanging out with him and playing a lot of games on FIFA in the student lounge! Christopher is funny, a nice guy, and getting better at English all the time; he finished at Intermediate level and he plans to return to EC Washington in the near future. See you soon, Christopher!
We wish all of our wonderful graduates good luck, health and happiness in their future adventures. You are welcome back anytime, guys!
Comments
comments