What you are seeing below is not an indoor baseball game, it is actually one of our English classes in Washington DC!
So, you might have heard… the Washington Nationals are the WORLD CHAMPIONS!!! Last night, the capital's underdog baseball team brought home the World Series in a dramatic 7th game victory in Houston. What a time to be in Washington! This is the first time our baseball team has brought home the championship since 1924! 95 years of hurt came to an end last night, but for many of our students it was their first experience of baseball.
Many of our students went to the viewing parties hosted at Nationals Park; our Chilean student Valentina went to all four viewing parties! Last night's was the biggest, with about 16,000 people watching the giant TV in the stadium. And then when the game finished at about midnight, the streets of Washington became one big party, with happy Washingtonians singing and dancing into the early hours. What a night!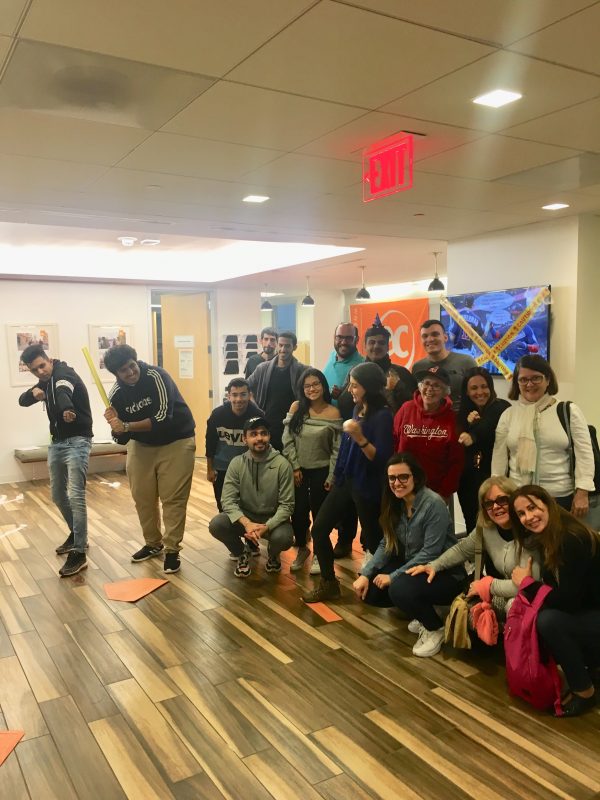 To bring the World Series spirit to our school, we had our specialist workshop teacher and baseball fanatic Cecilia put on a fantastic free class for our students, showing them all they need to know about baseball. In fact, our school turned into a mini Nationals Park for the day, as Cecilia set up our student lounge to resemble a baseball diamond! She always puts so much effort into these classes, to make sure our students have a memorable and distinctly Washington experience that they can remember forever – this is the sort of thing that they cannot do in a regular class, so it shows why our academic workshop program is so successful.
Interested in seeing one of our workshops for yourself? We rotate the topics all the time – sometimes we do a class about English and music, sometimes exam preparation (IELTS, TOEFL) and sometimes personalized grammar and vocabulary classes… and it's free! We have it all here at EC Washington, so come and find out more today!
Comments
comments