Halloween is a distinctly American celebration; many countries around the world do not have Halloween and if they do it is usually on a smaller scale than in the US. So, why not introduce the concept to our ESL students and have them get into the spirit of things! To Learn English in the USA is not just about classroom learning; it is also important to learn about American culture, and these kinds of events also allow our students to have fun and do creative things together.
Pumpkin carving is a staple of Halloween traditions, so we bought some pumpkins for our students, gave them some design templates and some carving tools, and let them loose! The results are pretty awesome!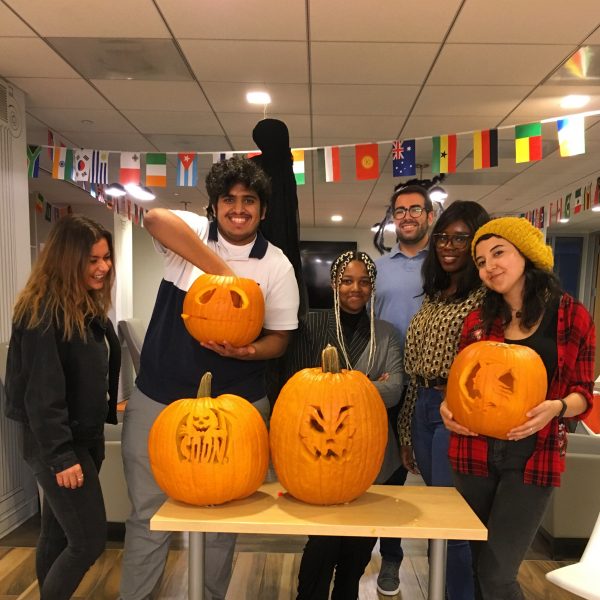 Here you will see Michelle (Switzerland), Yasser (one of our student ambassadors, from Saudi Arabia), Emma (France), Sandrine (France), Aldo (Italy) and Valentina (Chile) making up our international gang of pumpkin carvers! Which one do you think is best? I think they all did great work, and they really did enjoy themselves too.
Events like these are why our English language programs are so popular – we try to give our students a complete immersion experience, which includes helping them make the most of their time outside the classroom as well as in it. We find our students are so open to new challenges and to trying new things, they bring so much enthusiasm to events like these.
Do you celebrate Halloween in your culture? Is it different from American culture? We'd love to hear from you! If you would like to contribute your Halloween celebration ideas or find out more about our ESL programs at EC Washington, please give us a call at 202-695-7353, email us at Washingtondc@ecenglish.com or come visit our Farragut Square location today! Don't be scared! 🙂
Comments
comments