OK, full disclosure: our local basketball team, the Washington Wizards, are not exactly one of the NBA's leading lights. In fact, the Wizards are consistently among the bottom-ranked teams in America's national basketball league. But why should that stop you from enjoying a traditional American experience? It's all about the experience, and going to see something which you cannot see in your own country, accompanied by like-minded friends who also want to enjoy their time in the country, see new things and learn among their classmates. When choosing the Washington English school that is right for you, it's important to also consider what goes on outside the classroom.
EC Washington is proud of its social activity calendar; each month, new events are planned with the help of our dutiful student ambassadors, so we can put together some fun and free activities for our students to enjoy. Some examples of this include museum visits, neighborhood tours, pizza parties at the school, and special guided tours of Washington DC favorites such as the Capitol or Library of Congress. Sports events are another example, with last month being a special case as the Washington Nationals finally brought the World Series home to DC for the first time in 95 years! The town has been living in a baseball bubble since then but we still have our NBA and NHL (hockey) teams to play out the rest of the year — we won't mention the Washington Redskins, our NFL team that is currently bottom of the national rankings!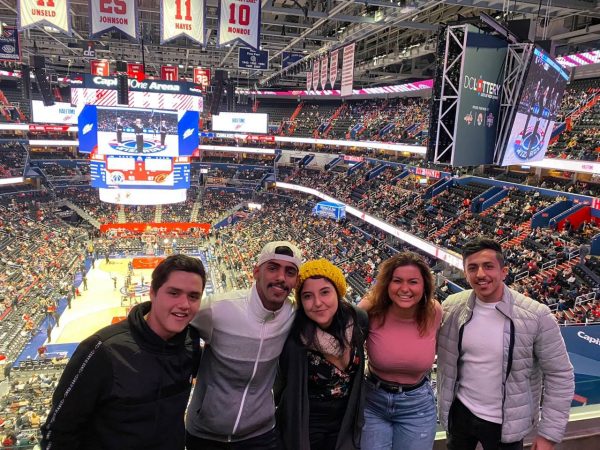 We got tickets for several students to attend Friday night's game at the Capitol One Arena, against the Cleveland Cavaliers. As expected, the Wizards fell to another defeat, but it was a nice evening out for our students. Bassam and Abdullah from Saudi Arabia, Michelle from Switzerland, Valentina from Chile and Mario from Guatemala show the varied mix of nationalities and age groups we welcome to EC English. We also had Claudia, Ana Thereza, Sandra and Geraldine (from Brazil) in another row, not pictured. If you'd like to join us on an activity such as this one, why not get in touch and find out how you can join our student body? Send us an email to washingtondc@ecenglish.com! 
Comments
comments