Our recent graduate, Valentina from Chile, was a much-loved and appreciated part of our student body; she clearly enjoyed her time with us too and had an affinity for the city of Washington, so we are thrilled that she has taken the time to write this wonderful blog about her experience her at her favorite ESL school in Washington DC. Take it away, Valentina!

US!
After eight years of studying English in my home country, I decided that the best way to achieve a proficient level that made me feel comfortable in academic and working environment was by studying a semester overseas. Having made a road trip in the US in 2017, I had already experienced the highlights of several major cities of the country: the exciting life in New York, the amazing architecture of Chicago, the delicious gastronomy of Philadelphia, the beautiful beaches of Miami, the vibrant culture of New Orleans, and the rock and roll of Memphis.
However, there was something in Washington that made me want to live there.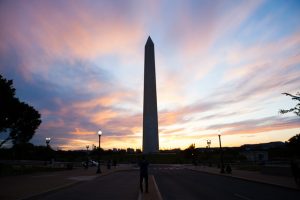 DC!
First of all, what I love most about Washington is that is not a big city; therefore, it is very easy and pleasant to move around by walk or bike. Moreover, DC has a very comfortable and reliable public transportation system. One of its noteworthy points is the possibility of buying weekly and monthly passes for unlimited rides on buses and Metro. For someone that refuses to drive a car, this is a big plus for the city.
Undoubtedly, one of the most remarkable features of Washington is the open access to culture. The 17 Smithsonian's museums and galleries in DC offer the opportunity to see the work of outstanding artists such as Leonardo Da Vinci, Vincent van Gogh, Claude Monet, Pablo Picasso, Henri Matisse, Jackson Pollock, and one of my favorites: Ryszard Kandinsky. Furthermore, it is possible to learn about geology, botanic, American history and space exploration. The best part is that all the Smithsonian's museums have free admission.
But culture is not only at the museums. The Kennedy Center offers free concerts every day —plus a terrace with the best view of the city—. You can also enjoy live music in Adams Morgan in places like Bossa or Columbia Station, or participate in one of the intimate concerts organized by Sofar. Booklovers can also enjoy time looking for their next literary treasure in places like Carpe Librum and Second Story Books at Dupont Circle, or Lost City Books at Adams Morgan.
EC!
One of the best things about EC English Washington is its location in Downtown DC, at a walkable distance from all the spots described formerly. But what I appreciated most about the school was the possibility of learning more than just English.
With students from all over the world, EC DC offers a friendly ambiance for cultural exchange. Through speaking exercises in class, extracurricular activities, or just by spending time at the students' lounge after class, I had the opportunity to learn about different cultures and to make friends from diverse countries. Certainly, an invaluable experience that enriched me in a professional and a personal way.
Furthermore, by the free workshops offered at the school, I also had the possibility to learn about key elements of the American culture, like popular music, holiday traditions, and sports. Since my first day at EC Washington I could feel the energy of a staff that loves what they do. Trustworthy people that make you feel at home and become your second family during your stay.
Without a doubt, the hardest part about studying at EC DC was saying goodbye to all the amazing people that I met there and that I'll never forget.
Comments
comments