Breakfast… the most important meal of the day!
Each month, we aim to brighten up the morning for our hard-working students by offering them a free breakfast in our beautiful student lounge. It has become a very popular event and this month's was one of the best attended breakfasts we have ever had. The breakfast is a good chance for students to take a quick break from their English lessons in Washington to get some much-needed refreshment and brush up on their conversation skills.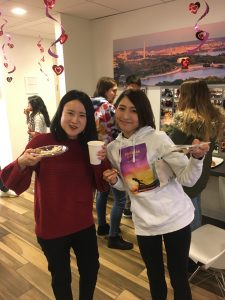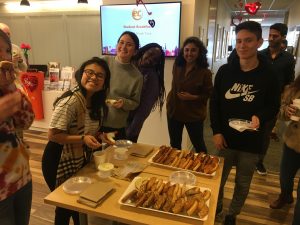 Croissants, bagels, cinnamon rolls, bear claws, coffee, and tea were all on offer as our students enjoyed their break-time between class periods. Our students come from diverse backgrounds, including South America, Europe, Asia and the Middle East, so there are lots of friendly faces to get to know.
The best thing about the student breakfast is seeing our students from different countries, backgrounds and language levels, all mixing together, using their English to converse and get to know each other. It is amazing how much easier it is to break the ice when everyone is enjoying good food and coffee!
Our student breakfast is a monthly event and you can see all of our social activities that are offered by EC on our social activity calendar, which you can find on our website. Most of the activities are free and give students opportunities to speak English, make connections, and make the most of their time in Washington DC.
Why not join our student community and improve your English while meeting new people and having an amazing time? We are ready for you to join and start classes each week. Just get in touch with us! You can contact us in these ways:
Email washingtondc@ecenglish.com
Call 202-695-7353
Visit our center at beautiful Farragut Square
Comments
comments