Fazer intercâmbio de inglês no exterior é, sem dúvida, uma das experiências mais enriquecedoras e surpreendentes que uma pessoa pode ter. É uma oportunidade imbatível de conhecer pessoas de todas as partes do mundo, tornar-se mais independente, e construir lembranças que durarão por uma vida inteira – tudo isso enquanto você explora um destino novinho em folha!
Vamos dar uma olhadinha rápida em algumas coisas que fazem a #ecexperience ser tão especial. Bom, você provavelmente vai…
1 | Encontrar um BFF
Quando você estuda inglês no exterior, os seus amigos se tornam a sua própria família fora de casa! Você com certeza encontrará alguém com quem vai se identificar, e vocês terão momentos incríveis juntos. Um deles provavelmente se tornará mais um dos seu BFF!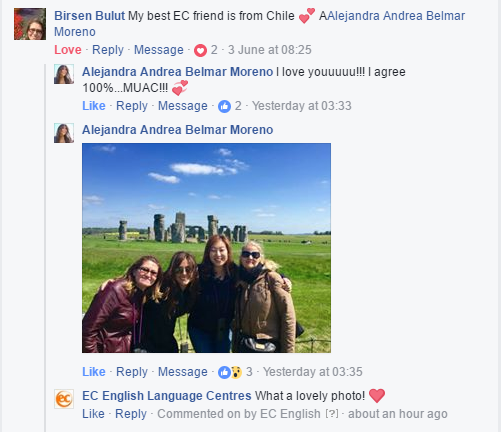 2 | E talvez se apaixonar …
Já vimos vários casais que se encontraram em nossas escolas! Algumas vezes esses adoráveis casais se transformam em algo ainda maior. Quem iria imaginar que durante um intercâmbio de inglês te faria encontrar a sua alma gêmea?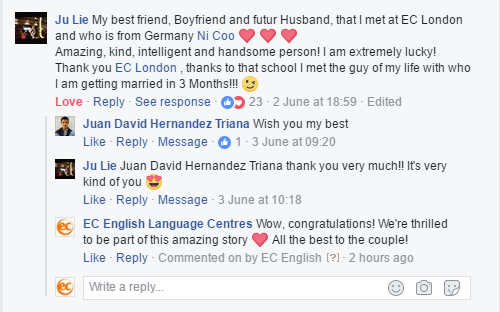 [hs_action id="118″]
3 | Sério, você terá amigos de todas as partes do mundo
Estudar na EC significa conhecer pessoas de aproximadamente 140 países diferentes! Nós amamos ver nossos estudantes fazendo amizades com pessoas vindas de diferentes cenários culturais – é a melhor maneira de crescer como pessoa.

4 | Ver algumas paisagens inesquecíveis
Com 23 escolas em algumas das cidades onde se fala inglês mais icônicas no mundo, você terá a chance de ver algumas paisagens realmente de tirar o fôlego. Seja a Table Mountain na Cidade do Cabo, a Golden Gate Bridge na ensolarada San Francisco, ou o Big Ben em Londres, você descobrirá tudo que o destino tem para oferecer.
5 | Começar a sentir-se como um cidadão local
A medida em que você vai conhecendo o seu destino EC, você começará a se sentir como se ele fosse a sua segunda casa. Com moradores amigáveis, muita coisa para fazer, e a sua incrível família EC, você terá a confiança para tornar o lugar a sua própria cidade!
[hs_action id="118″]
6 | Aprender muito com o suporte dos seus professores
Nossos professores são fantásticos, qualificados e estão lá para te guiar desde o seu primeiro dia de aula! Você se sentirá bem à vontade para fazer qualquer pergunta que possa ter enquanto aprende novas coisas e melhora as suas habilidades de inglês junto com seus colegas de classe.
7 | 

You'll grow into a more confident person
A confiança é a chave para atingir a fluência, e na EC você será capaz de construir a sua confiança como nunca pensou que iria.
8 | Mas, acima de tudo, você construirá lembranças que durarão para o resto da vida!
Na EC, aprender inglês no exterior não é apenas o que acontece na sala de aula. Significa desafiar-se, tornar-se mais independente, explorar um novo destino e torná-lo seu! Você fará amigos de todas as partes do mundo para toda a vida, e com eles, construirá algumas memórias incríveis. Então… o que você está esperando?
---
Want to be a part of the EC Experience? Contact us to find out more about learning English abroad – we've got loads of destinations to choose from!
[hs_action id="2793″]
Comments
comments