One of our students from Spain, Javi, wrote about a great soccer match he had: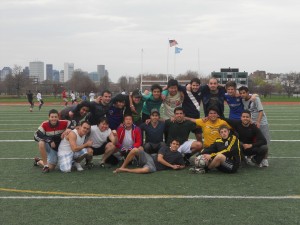 "Some students and I had met to play soccer in Boston. Usually we have the information about activities organized by students on the internet on a networking website.
That day we met at EC Boston around noon and the weather was poor.  The prognosticators said that we´d have 2h on the field without rain. The really was different. If we wanted to play at that hour, we´d have to play against other American people, because the field wasn´t free and the weather was changing quickly.
I remember, they were 11 very good soccer players, and we had 11 other soccer players, but with the difference that we had only played two or three times together.
This situation was amazing for me. I was playing in my team, maybe with other students of different countries, like a professional team of soccer. The final score was 3-1, the American people won the match.
I think that we finished wet with both joy and water, because of the amazing experience and the storm that happened."
Comments
comments