Hello EC Boston students! If you were wondering about the new mysterious people at the desk, allow me to uncover the mystery!
I'm Angela and I'm a junior at Northeastern University studying biochemistry. I'm interning at EC Boston for the summer as the student services intern! I'm going to be running the student ambassador program and creating your activity calendar! I'm taking suggestions for any activities that you would like to do over the summer. Remember to check the activity binder for new, fun activities. I would love for students to join the ambassador program, also! The program is a great way for you to show your EC Boston spirit! You can share your student experiences with new students, show them around the school, and learn about why they chose to study ESL abroad at EC Boston. Best of all, you get free breakfast! Feel free to come find me at the front desk to chat, to give me an idea for an activity, or to learn more about the student ambassador program!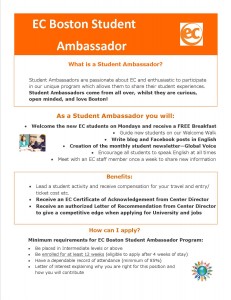 The other mysterious face at the front desk is Daniel! He is the Conversation Partners coordinator intern for the summer! He is a senior at Emmanuel College studying International Relations. He is running the Conversation Partners program and would love if students joined! As an EC student, you are matched with an American student and meet with them once a week for an hour. This is a GREAT way to practice your English and make a new American friend! Feel free to come to the front desk to talk to Daniel about joining this program or to get to know him.
Talk to you soon, friends!
Comments
comments