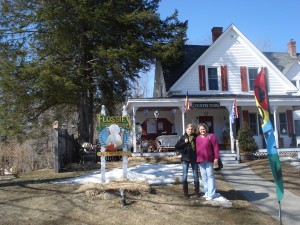 My name is Alexandra Winter, I'm 21 years old and I live Switzerland. Two years ago I got the opportunity to spend three months in the city of Boston and meanwhile take the Cambridge Exam course at EC. Although in my opinion choosing the right destination and school is a very important issue for every language stay, to find the right place where you are going to live while staying in a foreign country might just be as essential. EC Boston offers various options such as apartments, student residencies or home stays.
For me it was never a question that I wanted to live with a family in order to experience the American lifestyle every day and I can honestly say that I could not have stayed at a better place than the Nappi family. From the first day on, their house was like my second home to me and they truly gave me the feeling to be a part of their family. Without a doubt, they made my stay as amazing as possible. I experienced daily family dinners, birthday parties, amazing trips to New Hampshire, sunny days on the boat or at the beach (which is just down the road from there beautiful house) and much, much more. These are just a few examples of countless wonderful memories I have of my time with them.
So it probably will not surprise you if I say that I decided to come back to Boston again this year and visit my American family. Just like before they made my time
in America unforgettable and I enjoyed every day. I must say that the Nappis are a wonderful and warm family and I want to thank them for everything they have done for me. Especially Kristina was always there for me and helped with everything – no matter if it was finding a certain store at the mall, picking me up late at night when missing the bus or even comforting words when struggling with homesickness 😉 ! I cannot wait and am very much looking forward to see them all again soon – may it be in Switzerland or my second home, the Nappi family in Boston :-).
Comments
comments