A group of EC Boston students and staff went to see Shen Yun Chinese dance performance company this week.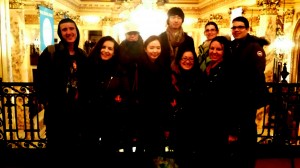 Shen Yun is a very important cultural dance company, describing itself as "the essence of 5000 years of Chinese Culture". Their dance tradition is rooted in Falun Gong spiritual practice, which is now not accepted in China. For this reason the company of Chinese dancers was formed and now continues to tour in the US, Europe, Asia and other places, but has never performed in Mainland China. Students said the performance was "great!"
If you know of any cultural artistic performances and would like to lead an activity, please let the front desk know! Each month EC Boston's activity program branches out to include new experiences for students.
Comments
comments