By Bryn Keating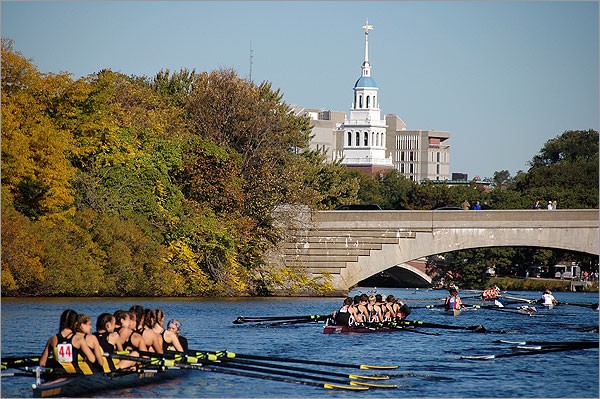 The Head of the Charles is an iconic Boston event. A series of rowing races down the Charles River, the regatta (boat race), is celebrating its 50th anniversary this weekend.
According to the HOCR website, the annual event attracts over 11,000 athletes and 400,000 spectators from around the world. On Saturday, October 17th, and Sunday, October 18th, tourists, rowing enthusiasts, and general spectators will line the Charles River from the start line near the Boston University Bridge to the finish line near the Harvard University athletic fields.
Good places to watch the races, which include professional, amateur, and university teams, are near the Anderson Memorial Bridge in Cambridge/Allston (take the Red Line to Harvard and walk down JFK Street), Magazine Beach in Cambridge (take the Green Line B to Boston Univ. West and walk across the BU Bridge), and Soldiers Field in Allston (walk from Harvard University or take the 66 or 86 Bus).
In addition to cheering on the rowing teams, you can visit food stalls or visit one of the many vendors that will be giving away free food and gift samples. The Head of the Charles is a truly unique Boston experience that you should not miss!
http://www.hocr.org/
http://www.bostonmagazine.com/arts-entertainment/blog/2015/10/11/head-of-the-charles-guide/
Learn more about EC's Boston English center.
Comments
comments