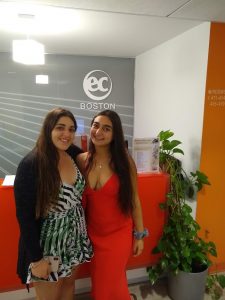 First things first, we're Camila and Ana. We're two students from EC Boston, one from Ecuador and the other from Brazil. After we met in EC, we became best friends.
Camila's Experience
My experience in EC Boston began on March 18th of 2019. at first I was so nervous, but I have to admit that this has been the best experience in my life! I will never forget my time here. This journey gave me the opportunity to meet amazing people that are going to be always in my heart.
Thanks to EC Boston, I have two best friends: one that is call Marta from Spain and Ana. I met incredible students from all around the world, with who I share a lot of memories and culture. Also, incredible teachers that I am always going to remember. Thanks to them I'm proficient.
Well, I can say classes here are so amazing, you have fun, you learn a lot, teachers always help in whatever you want, they always take care about you. For me, I improved my English a lot, I reached the last level thanks to all the help that they gave me. Thanks for all that they teach my for me it's the best play to come and improve or learn English.
For me EC it's my second home, and I'm glad to have been studying here, I can say that EC it my family, people here are so nice you always can count on people, teacher and stuff, I'm so proud to say that I'm part of this family I will never regret this opportunity.
I can give you advice and recommendations of what can you do in Boston:
First, you must have to go to all the activities from EC Boston
You need to eat in Quincy Market
Please you need to visit all the parks, museums and historical places.
If you get lost, please never doubt in call EC Boston they will always help you in everything.
Last but not least, ENJOY THE EXPERIENCE
To finish, I can say that I'm very lucky to have been in EC, without them probably I could not speak in English, so thanks EC Boston for all you have done for me, see you soon.
Thank you EC Boston, you'll be forever in our hearts!
Comments
comments