Here in Boston, it's finally time to say goodbye to a very hot summer. Our students have made the most of the hot weather — they've been to the many beaches we have, they've visited all of Boston's public parks, they've walked the Freedom Trail, kayaked on the Charles River, watched the Boston Red Sox, and eaten more lobster rolls than anyone could imagine.
However, now we're moving into Fall. The city is changing, and our school is changing, too!
Today, we had our last big graduation of the summer.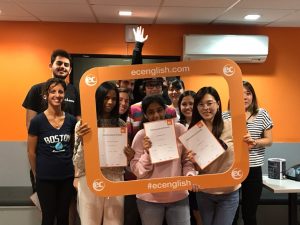 Some of our students who graduated today were only with us a very short time, but they really enjoyed their stay! On the other hand, some students have been with us a good while, including Aseel who stayed for 38 weeks!
Now that we have less students as we head into fall and winter, the atmosphere in our school changes. Firstly, the students get to know each other much better, and this is a really positive thing. Everybody gets the chance to learn about different cultures, and our students sit at their lunch tables and exchange their stories. Practicing their English!
Another positive about the school getting smaller, is as well as students getting to know each other better, our teachers get to know the students better! Every year in the winter, students are always so happy that their teacher can offer them so much personal attention. You need help with an essay? No problem, the teacher has more time. You want a recommendation for something to do? Easy, your teacher knows you well and knows what you like.
While it's going to be too cold to go to the beaches soon, the fall and winter seasons see some of Boston's most special activities. For example, people travel from all over the country to see the leaves on New England's trees change color. Oh, and don't forget ice skating at the Frog Pond in Boston Common! Always fun.
So, to conclude, summer has been a really fun time at EC Boston, but the rest of 2019 at everybody's favorite boston esl school is going to be really special!
Comments
comments