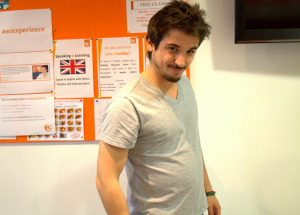 Hi EC Brighton! My name is Andrea, I am 21 years old and I come from Italy!
Why did you choose to study at  EC Brighton?
Because a friend told me that the EC is the best school! It was such an easy decision! So I enrolled myself on an Intensive English course in Brighton at EC, where I studied at intermediate level.
What did you enjoy the most about your time studying at EC Brighton?
It's difficult to say, Brighton is a great city where there are a lot of things to do: activities with the school, monuments and landmarks to visit like the Royal Pavilion or the Brighton Pier, its nightlife… Brighton has everything!
Please tell us a little about what you thought of:
Your teacher: In my opinion, all the teachers are professional and friendly.
Your work placement: The EC's building is perfect for the lessons and there are good learning tools like the interactive whiteboards which students can use together with the teachers.
Activities (pub nights/ salsa/ free lessons/ excursions): the pub nights are great,  my opinion about that it's very positive! I liked very much the atmosphere at the Font pub.
Foreign friends: They are very friendly, Brighton is full of students and also I found great friends in my residence! It was a great experience!
Comments
comments