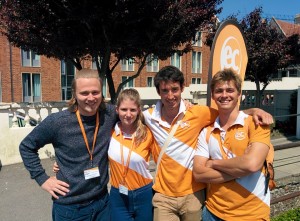 So, the orange and white T-shirts are out, the sun is shining (in England, yes!) and this can only mean one thing… EC Summer has officially begun! This marks the start of our Junior Classic Homestay programme, which begins at Dolphin House and is then based at Brighton College for most of the summer; a short walk from the town centre and the famous Brighton Pier!
Students on the Homestay programme have morning lessons (with the option of intensive classes), followed by lunch in the town centre and various activities throughout the week.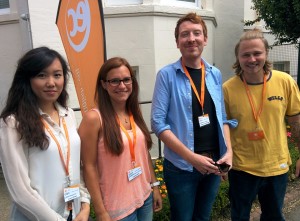 On arrival, students are welcomed to the school and given an English test to ensure that they are placed at the right level and have the best opportunity to improve their English during their stay. After their first lessons, the Social Leaders take them on an orientation tour around Brighton so that they can familiarise themselves with meeting points, shops, bus stops and so on. They also go to an EC welcome party in the evening so that they can meet other EC students from all over the world. Right now, we have students from Colombia, France, Germany, Brazil, Russia, Spain, Sweden, Belgium, Libya, Turkey, Switzerland, Italy, Saudi Arabia, Slovakia, The Czech Republic, Poland, Ukraine, Hungary… and we are expecting many more over the coming weeks!
During the week, after lessons, student activities range from various sports, cinema, laser zone (possibly our most popular activity!), bowling, Brighton Museum, Brighton quizzes and trips to London, Cambridge, castles and country parks… We have a dynamic team of Social Leaders who accompany students on all activities and provide help, support and, of course, entertainment. Students are kept busy and never bored and leave Brighton having made new friends, gained new experiences and improved their level of English.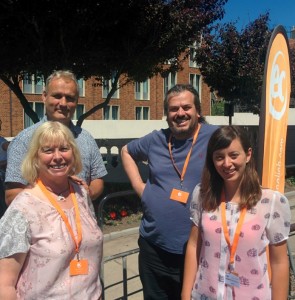 We have a fantastic team of academic and leisure staff who are always ready to help. We also provide a weekly accommodation helpdesk so that students can discuss any accommodation issues they might have and to make sure students are happy with their host families.
If you are looking for English lessons for juniors in Brighton, feel free to contact us for more information. Other junior programmes also include Junior Classic Campus and, for slightly older young learners, our Freestyle Programme. Happy summer! 🙂
Comments
comments