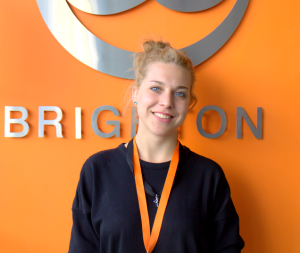 I'm Charlotte the new French intern!
I am from the south west coast of France, and actually I live between La Rochelle and Bordeaux in a lovely city with fancy people, cool places to go out, and wild beaches which are really amazing to go surfing.
I'm passionate about art, fashion and design and I study English in Brighton to become an air hostess for a French flight company.
Before I came in Brighton, I lived in London for 3 months where I improved my English. It was absolutely fantastic. This kind of experience is crazy because you can really meet people who are totally different from you, with a different language and a culture totally opposite from yours, but in the end you're really similar because like them, you are a foreigner. And then you get friendship for life.
I started working in the academic department at EC Brighton 3 weeks ago and I'm going to stay in the school until August.
My job is directly related to the students of the school, I check the attendance, upload their marks, and I help with the correction of their tests. The working team is really nice and open minded, it's a real pleasure to work here.
And Brighton is such a beautiful place, I wish I could stay longer and spend the most time I could with you all but If I can't I will for sure pop to Brighton very often!
Regards,
Charlotte.
Comments
comments