Hi, Everybody!
My name is Manuela and I am 19 years old. I come from Italy where I live in a small village surrounded by mountains and very close to Austria.
As for my hobbies, I love travelling, meeting new people and new cultures. Despite having visited many places, this is my first time in England and here in Brighton.
I will be in Brighton for four months and although I did not choose this destination, I think Brighton is a wonderful city that has something that makes it truly unique.
Fortunately, the weather was really sunny during my first month here and only now I am experiencing the famous and unpredictable English weather.
I have been at EC Brighton for about three weeks and I will stay here until mid-December. I am the new intern for Student Services and you can find me at the reception with Eli and Natalia (and Roxane, her little baby who is going to come into the world very soon!). All staffmembers are marvellous and ready to help you when necessary.
What else is there to say? Come and visit me at the reception!
Manuela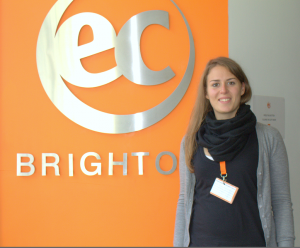 Comments
comments