Juan Pablo Segundo Pardo Rueda, our student Ambassador took a 9 months course to learn English for academic purposes in Brighton. Here' what he has to say!
I have improved my English a lot and I have to thank my Teachers and also all EC Staff. I have to say that it has been such an amazing experience to be here.
I have met lots of people and made many friends. I shared a bit about my own country and I have learnt about other cultures.
Brighton has become my second homes, thank you! I have great memories of good friends and one more experience in life.
I will miss EC Brighton!
Juan Pablo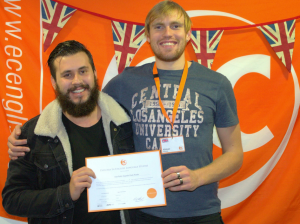 Comments
comments