Seyma Gurdag from Turkey studied an intensive course for twelve weeks in our English School in Brighton. Here is what she would like to share about her experience:
I have learnt lots about English culture, people and I made many friends from all over the world. My lovely teachers helped me so much to improve my English and I am very thankful.
I have lots of good memories about EC and Brighton and one of my favourite activities is the EC traditional pub night which is a great opportunity to practise English.
I am feel so happy about this experience that I am thinking about coming back again!
 Thank you to everyone and see you soon!
 Seyma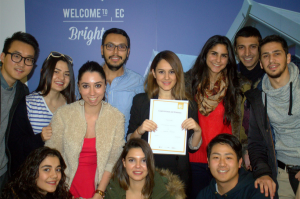 Comments
comments