Wonji Lee from Korea studied at EC Brighton for eleven months. Here is what she should like to share with us about her experience in our English Centre in Brighton.
I took the General English & Cambridge FCE courses. Both were really helpful to improve my English skills. I met amazing friends and teachers and I had a great time.
I will never forget EC Brighton, thank you!
Wonji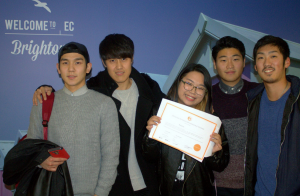 Marion Maury from France studied two weeks at EC Brighton.
I came here because I have to improve my English for my job. I chose EC Brighton because friends told me that it is a great destination to live and learn English.
I really had a great time and I would recommend EC to my friends!
Thank you
Marion
Comments
comments