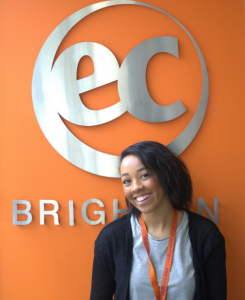 Hi Everybody!,
My name is Amanda dos Reis Gloria and I come from a city called Gothenburg which is located in Sweden.
I am an intern here at EC Brighton and I'm staying here for seven weeks, I am now on my fourth internship week.
I study Business and Economics in Hvitfeldtska high school back home and I'm on my last year, and this internship is a part of my course. The reason why I am here is because I want to improve my English so it can help with my future plans; studying in a university here in England and becoming a PR agent.
My weeks here have been nothing short of incredible. I have learnt, got to know and experienced so much in these few weeks and there is much more to come.
EC Brighton has been such a good place to be an intern and it has made me grow as a person. The city of Brighton is a really wonderful place with lots of kind people, cool stuff to see and lots of fun things to do.
The fact that I have made so many new friends from all over the world is really amazing. It feels like I am a part of thousands of cultures at the same time but we all still are in England sharing the English culture and this experience together.
My host family has been such a great family and I feel so lucky and blessed that I'm living with them, they have helped me, taken care of me and let me be a part of their wonderful family. I have been feeling like part of their family and not just like a student or a guest.
I have EC Brighton English School, my host family, my friends and my school in Sweden to thank for this wonderful experience. So thank you for everything and thanks for making me feel more blessed each day.
I will never forget the friends or the memories I have been through so far.
Amanda dos Reis Gloria
Comments
comments