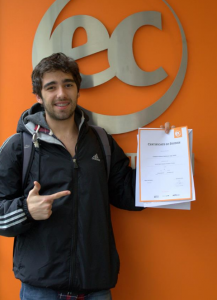 Cristiano Alvares Valladares from Brazil studied intensive English at EC Brighton English School for ten weeks. He stayed in a single room with one of our lovely host families and he wanted to share his experience with us:
I chose this destination because of my best friend Rafael recommended it to me. I learnt a lot of things, not just English as it turned out to be a fantastic life experience for me.
I will recommend EC Brighton because I love the teachers and their way of teaching, everyone in the Academic office was really helpful together with all EC staff.
I will never forget this experience as it has changed my life forever.
Thank you!
Cristiano
Comments
comments