Brighton Science Festival started ten years ago. It's the best way to discover things about where we came from, deal with where we are and debate where we might go in the future…
There are some extraordinary and inspiring science communicators out there, and Brighton Science Festival search all the festivals and publishers in Britain to bring the best to Brighton. The festival is for all ages, but is particularly aimed at 12-14 year-olds. This is because between secondary school and primary school young people are fired up with enthusiasm for science. Within two years they hate it. Why? The government has recognised the problem and fiddled with the school curriculum, trying to make it more user-friendly, but that hasn't worked.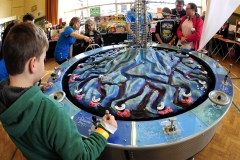 According to Brighton Science Festival, in school there is no spirit of discovery. Young people love to explore, experiment and create. They don't mind making mistakes along the way. But the curriculum doesn't leave time for mistakes. They have to get the right version in their books straight away, ready to move on to the next topic. There is no room for the spirit of discovery.
Brighton Science Festival makes science so irresistible to young students that the A-level courses are flooded with applicants. And it is just as appealing to all ages. The events of the Brighton Science Festival are always riveting, fun and numerous. If you're studying English Courses in Brighton, take a look at the Brighton Science Festival Calendar and see if you can catch one of their events.
Comments
comments