The Undercliff Walk progresses from Brighton Marina to Saltdean, it's an exhilarating coastal walk or cycle. The path goes for about 3 miles between the sea and the glorious white cliffs on one side. Accompanied by the shingle beach and sea. When the ocean waves are against the sea wall, it can be exhilarating. Do be careful when there are strong winds as the sea will come up over the wall and onto the path.
This route is open to cyclists as it intersects a National Cycle Network route 2. If you are cycling you should know that pedestrians have right of way. This means slowing down and following their pace, not pushing them to speed up or racing past them. It is a great cycle route because the whole distance is very flat and the concrete is very smooth and well surfaced, perfect for beginners/ infrequent cyclists.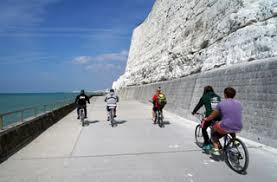 It begins at the Marina, which is roughly a mile east from the center of town as you go along the seafront. On the path you will pass the small residential area of Roedean, the town of Rottingdean and the path finishes in Saltdean. Saltdean is home of the Grade II listed building, the Saltdean Lido. Which is currently undergoing refurbishment, as it will be restored as a functioning swimming pool.
Rottingdean and Saltdean are both home to some cute little shops and cafes and well worth exploring. There will be traditional village pubs serving English food and some antique shops too. If the winds are low, it is nice to cycle above the chalk cliffs on the dedicated path, which follows the same directions as below. However if it is windy you will definitely want to avoid the top path, since it can be very difficult when going against the winds.
Comments
comments