Hi Guys,
Did you enjoy Bonfire (Guy Fawkes) Night? Did you go out on Monday night? Did you see the fireworks and the bonfire?
Here some facts for you about BONFIRE NIGHT also known as Guy Fawkes Day, Guy Fawkes Night and Firework Night:
The celebration of Guy Fawkes Night comes from the Gunpowder Plot of 1605. A group of English Catholics tried to assassinate King James 1st of England and replace him with a Catholic king. They set some explosives under the House of Lords where the king would be the next day. However, the plot failed. Guy Fawkes, the man guarding the explosives, was caught. The King's Council allowed the public to celebrate the king's survival with bonfires, so long as they were "without any danger or disorder". This made 1605 the first year the plot's failure was celebrated. Now every year people light bonfires and set off fireworks to "remember, remember the 5th November, gunpowder treason and plot."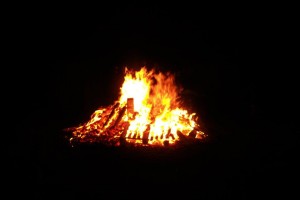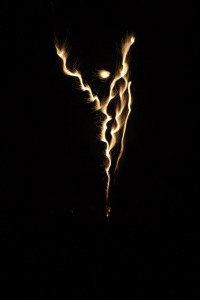 Yesterday some of our students went on a Ferry Boat Trip on the river Avon. The students enjoyed a fun and relaxing time on the ferry seeing the sights along the river.
Today I'd like to share the activity calendar from this week with you guys. You can find it at Reception and on all the computers screen + the main TV in the Lounge Room.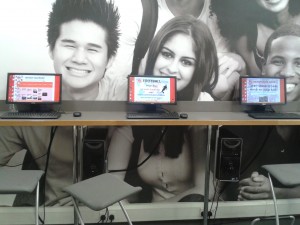 The next activity coming is MOVIE NIGHT on Thursday at 16.00. What is the movie? James Bond 007 SKYFALL. No worries guys, the movie is subtitled.
As well as our other activities there is also an ART AFTERNOON (Art Gallery or Museum Visit) on Friday at 14.45. You will go and visit the interesting and educational museum M SHED. At the moment the museum is exhibiting WALLACE & GROMIT's Pirate Boat and holding a great exhibition about identity through paintings and photographs from the National Portrait Gallery, London.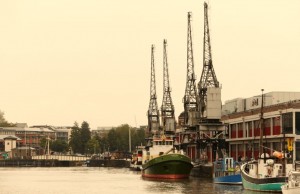 Coming soon we have a trip to Oxford (Saturday 10th November 2012). Oxford is known as the "city of dreaming spires", a term coined by the poet Matthew Arnold in reference to the architecture of Oxford's university buildings.
Please have a look below at the weekly activities calendar: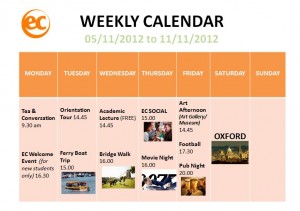 I hope it will be of help! 🙂
HAVE A GREAT DAY GUYS!!!
The EC BRISTOL Team xx
Comments
comments