Hi everyone,
A new month has just started. Can you believe that? We are already in February! and how many days are in this month? 28 only (29 if it's a leap year). In There is a rhyme used to remember the number of days in the months in English speaking countries:
Thirty days hath September,
April, June, and November.
All the rest have thirty-one,
Excepting February alone,
And that has twenty-eight days clear,
And twenty-nine in each leap year.
What's on at EC Bristol? Let's look at the new monthly calendar.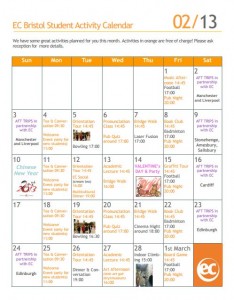 Yesterday we held a QUIZ for the students, with Kyle Davies, one of the EC Bristol teachers, being the quizmaster. It was a great opportunity for the students to practise their English while having fun. Who is this person? What is it? Many questions asked and many answers received by different teams. Check the pictures out on our EC Facebook Page!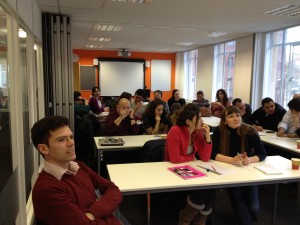 Every two weeks we organise either a FREE Pronunciation Class or a FREE Academic Lecture. This is a free 45 minute lesson, prepared by one of our professional teachers. 'How do I read and pronounce this word?' It's a good opportunity to practice your speaking, listening, reading and writing. 'Immigration in the UK?' 'Music in the UK?' 'What is the history of the UK?' and many more topics.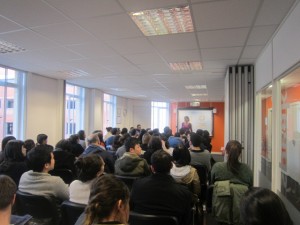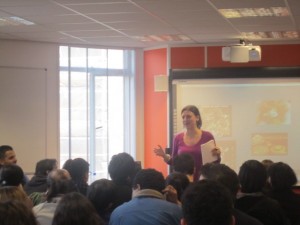 Football is one of the most popular activities of EC Bristol. Many guys and girls take part in this activity. If you just like to watch you can always join our Football team and watch them play!
Did you know that on Sunday 10th February 2013 it's the Chinese New Year? It will be the year of the Snake!
Chinese New Year is the longest and most important festival in the Chinese Calendar. In China, it is also known as the 'Spring Festival'. What do the people usually do? People will pour out their money to buy presents, decoration, material, food, and clothing. It is also traditional for every family to thoroughly cleanse the house, in order to sweep away any ill-fortune and to make way for good incoming luck. Windows and doors will be decorated with red colour paper-cuts and couplets with popular themes of 'good fortune' or 'happiness', 'wealth', and 'longevity'. On the Eve of Chinese New Year, supper is a feast with families. Food will include such items as pigs, ducks, chicken and sweet delicacies. The family will end the night with firecrackers. Early the next morning, children will greet their parents by wishing them a healthy and happy new year, and receive money in red paper envelopes. The Chinese New Year tradition is to reconcile, forget all grudges and sincerely wish peace and happiness for everyone.
What is your chinese zodiac sign? (I'm a horse!)
Let's change topic now.
Have you heard about our Career Adviser?   http://www.edugold.org/about.html
Today, Thursday 07th February 2013, we will start our students' careers service. The service is FREE to EC BRISTOL students. The careers adviser (from EDUGOLD) offers help & guidance to individual students on areas including:
• CV & covering letter preparation
• Assistance & advice on job searching in the UK
• University & further education information & guidance
• Assistance with University application procedure
So, join the seminar tomorrow at 14:45! You can also arrange future one-to-one meetings with the career adviser!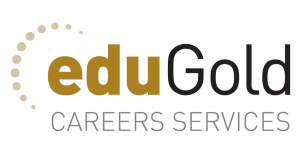 Here is an English expression that the EC Bristol Team are happy to teach you:
'The Straw That Broke The Camel's Back: the last in a series of unpleasant events which finally makes you feel that you cannot continue to accept a bad situation.This expression comes from an Arabic proverb about how a camel is loaded beyond its capacity to move or stand.One of the earliest published usages of this phrase was in Charles Dickens's Dombey and Son (1848), where he says "As the last straw breaks the laden camel's back", meaning that there is a limit to everyone's endurance, or everyone has his breaking point.'
Thanks from the EC Bristol Team
Comments
comments