It is with great delight that we post the warming testimonial of Kirstin Schneider known as Kiki.
Unfortunately, Kiki's last day of work at EC Bristol was last Friday. The EC Bristol Team wants to thank her loads. She really worked her socks off! We also thank her for her energy and enthusiasm. We will miss her. And we wish her a Happy Easter and all the best of luck for her future! 😀
'Applying at EC Bristol as an intern was probably one of the best decisions I have ever made. I chose to come to Bristol as I wanted to gain work experience in a completely new place and I was eager to immerse myself in the UK for a few months.
At university, I attended seminars in intercultural learning and communication. Working in a foreign language environment like EC gave me the opportunity to experience all these theoretical skills in practice. I have gained so much by meeting great people from a variety of countries and backgrounds. Thanks to them, I have the impression that no week in my internship at EC has been the same.
Bristol is a great place to be. Since I got here, I have found myself becoming a walker – you can easily discover all of the good places on foot. I experienced Bristol as a vibrant, young city with a large variety of beautiful spots and sights, pubs, cafes, parks, galleries and friendly people.
At work, I learnt so many new things every day. I got to know all parts of the company since the work I was given covered almost all areas (reception, accommodation, finances and bookings, etc.). By the end of my internship, I had been trusted with an amount of responsibility I had not expected, which I really appreciate. I was warmly welcomed by everyone right from the start. A lot of work from day one helped me to feel soon as a valuable part of the team. Speaking of the team here at EC Bristol: everyone is simply awesome! Finding words to describe the good and relaxed atmosphere I experienced at EC is not as easy as it sounds. I guess that waking up early in the morning and looking forward to going to work and meeting your colleagues speak volumes. The fact that the whole team is addicted to cakes, biscuits and all sorts of chocolate play a part in enjoying this internship so much, too.
I had a wonderful time interning at EC Bristol. Thanks to everyone for this amazing opportunity and the great experience I was able to have. I could not have asked for more.'
Thanks again for your great help Kiki!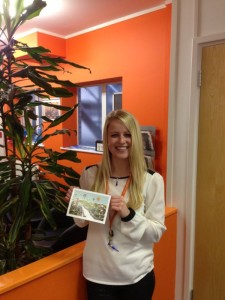 Comments
comments