Did you know that EC Bristol offers Short and Long-term English course?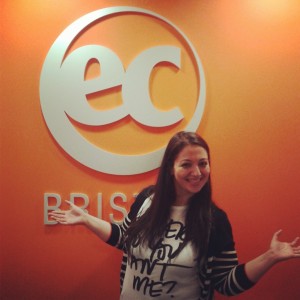 Zeliha joined a trip organised by UK STUDY TOURS. And on her article below, she reports on the city of Liverpool (but of course Bristol is much better) so please have a read through:
"The world used us as an excuse to go mad." – George Harrison
This time we turn our attention from Bristol to Liverpool, The Beatles History. But before this, we should talk about The Beatles. I know maybe everybody knows The Beatles but yet a little information is good 😉
The Beatles were a Liverpool based English music group which consisted of John Lennon, Paul McCartney, George Harrison and Ringo Starr. Their music was routed in rock and roll, during their musical journey, The Beatles played and sang other genres of music like pop music. After playing the clubs in Liverpool and Hamburg, the group became famous with the sing 'Love Me Do" in 1962. And in 1963 'Beatlemania' started with Please, Please Me. At the beginning The Beatles just made 'music', but in time their music influenced the social conditions of their era.
Approaching 1970, The Beatles experienced a number of problems and they broke up in 1970. After breaking up the group members each enjoyed successful music careers.
In 1980 John Lennon was shot and killed and in 2001 George Harrison died from cancer. Paul McCartney and Ringo Starr are still alive.
When we talk about the museum, it is located on the Liverpool Waterfront, in the Albert Dock. Reaching the Albert Dock is very easy. You can go by bus, rail or on foot -the easiest way of getting there from the city centre. Even though there is an entrance fee, it's worth it. Also, if you go as a group or family, or you are a student, there is a discount.
Well… what's in the museum? The museum deserves its name, because there is The Beatles History in the museum, from beginning to  end. The history of the Beatles is being told with audio recordings of witnesses of the Beatles and family members of group members. There are also street and stage simulations, images, and concert and performance posters from the group's history. The inside of the museum is well designed. When you get there, you start on a journey with the Beatles.
The Beatles Story also has a shop called 'The Fab 4 Store' which is influenced by the group's name before 'The Beatles'. And you can see what Beatlemania is! There is so much merchandise about The Beatles; coasters, t-shirts, mugs, key rings, bookmarks, collectables, magnets, playing cards, postcards, posters, the list goes on!
When you visit Liverpool, you should see the Beatles Story if you are a fan of the Beatles. But if you aren't, I still suggest you go and see it because as I said before it's worth it!
Here is a video to give you an idea.
http://www.youtube.com/watch?v=gAEuOAwEoNI
Comments
comments