We would like to thank very much Ludmilla for her fab & touching memories.
Ludmilla was studying an ESL course abroad at EC Bristol. She was such a lovely & cheerful student that we will always keep in mind!
Please read her message below:
Dear EC staff and friends,
I'm very pleased about everything that you have done for me. I'm sure that I won't forget the amazing time that I had there. I've experienced and learnt so many things that I would never do if I was in Brazil. I'm in love with Bristol, its parks, the Harbourside, where after a hard day working/studying it would welcome us to have a great time with our friends at a pub or simply by watching the sunset.
The festivals! Oh, I've never seen a city that likes festivals so much as Bristol. And I agree, because they are amazing, each one with its own special meaning, but all giving its citizens a great time to eat, dance , listen to good music or just lie down on the grass.
And my friends? I want to thank them so much for being next to me during all these moments. We all came from different places and cultures, but it just made our friendship stronger, though the respect and curiosity to learn about each other's stories. Now I know what Ramadan is and how important it is, also I know how polite Asian people are, and the Italians, they are so friendly and sociable, just like the Swiss and Colombian people. And the Turkish students? I've learnt that the beauty of the women is in their eyes, and how beautiful they are. And the men? I can probably say that they are the best dancers! Thai? Ah, I won't ever forget how spicy the food is!!
To sum up, thank you so much to all EC staff members, who were always there to help me and bring the students all together with the activities and trips, which I enjoyed the most!
Before I came to Bristol, I was really afraid of what was waiting for me. When I first stepped into the school I was thinking that I would need some days to make friends because I'm shy but it was the opposite. Everybody was so receptive and the "welcome event" was the best opportunity to make friends. That was where I first met Jimena, Yonca, Pinar and Camila who remained my best friends until my last day over there!
Finally I want to give special thanks to all my teachers that were very thoughtful towards me. I've learned so much thanks to their excellent didactic and dynamics lessons.
I won't ever forget it; this was an experience for all life. I'm sure that if I need to update my English I will choose EC again and I will also recommend it to everybody.
THANKS SO MUCH!
Ludmilla Paixão Blaschikoff – brazilian girl =)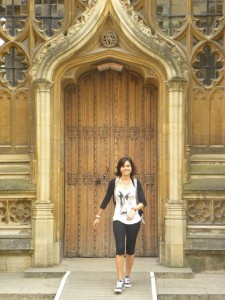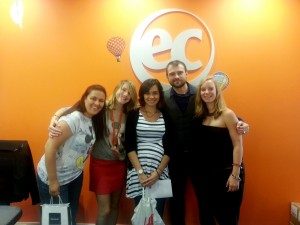 Comments
comments