Our student Yuliana would like to share her thoughts about EC Bristol school trip.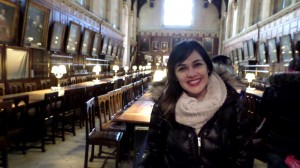 Last weekend I lived one of the most beautiful experiences thanks to EC Bristol. I visited Oxford, a city in the central southern of England well known worldwide as a university town.
The day was incredible with a very cold winter breeze but it was also sunny. We began the journey in one of the museums of Oxford The Ashmolean Museum of Art and Archaeologyis one of Britain's oldest public museum and one of the oldest museums in the world, there you can learn about Egypt, Chinese, Greek and other cultures; you can also find a great variety of sculptures, statues and paintings, dating back a thousand years. Then we continue the walking through Oxfords streets and the main Universities of the place. Another site that we visited was St. Mary the Virgin Church College with a great architecture design from the 13th century it is considered one of the oldest university buildings in the world with a beautiful slender tower, is amazing to stop and think how people were able to build these magnificent structures and that after so many centuries we can know it.
Also we visited the Museum of Art and Science where we can find a collection of more than 10,000 scientific instruments, but the place that I really like was Christ Church Collage It is an Educational, Religious and Historic place it's the house of the film of Harry Potter movies I cannot explain with words the mix of feelings that felt in that place walking the halls, gardens and the main dining room it was really amazing, but that is not all, you can find the Cathedral a holly place full of peace it was wonderful.
And to relax we went at Turf Tavern a very famous Oxford student pub, we tasted and drunk a delicious lunch and hot wine.
Well if you are thinking to visit a place and know a bit of England don't forget to visit Bristol and also Oxford. You will really like it.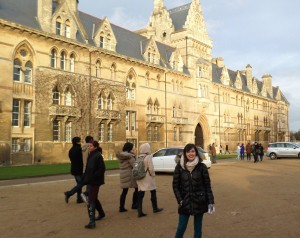 Comments
comments