For us, the bike ride was really good. Firstly because the teacher Luke asked us what we would prefer to do, to continue the agreed loop or to go to another place, to take a cold drink and so on….so we really had a personal bike tour.
We rode along the Harbourside and went to Ashton Court which is a beautiful park and is very green. We then went to Clifton Suspension Bridge where we took a lot of nice pictures. Finally, we came back to the city centre where we stopped to have a cider.
During the bike tour, we asked Luke for some places to visit in Bristol and, at the end of the day, he showed us these fantastic places. He also brought us back to the place where we hired the bikes.
Definitely, it was a funny and friendly tour that we would repeat, of course!!!
Svenja and María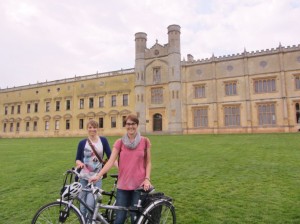 For more information about our English courses, please go to the following website.
Comments
comments