From crossing deadly alligator-infested rivers to engineering high-quality suspension bridges, this Monday played host to a variety of team-building events throughout the evening.
Challenge 1: teams of ten young learners had to cross the dangerous 'river' in order to get to safety. This required team work and lateral thinking on getting the students across the river in the safest and most efficient way.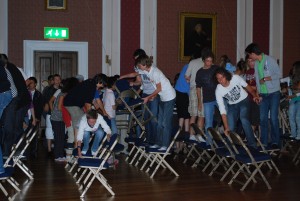 Challenge 2: the young learners had to devise a robust, yet simple, bridge that would support an object. Needless to say we had a variety of different contraptions.