Last week we took some of our junior students to Castle Hill. Its the highest natural peak in Cambridge although it only stands at about 30ft.
Many students expect there to be a Castle on Castle Hill, however this was taken down many years ago so only the mound remains. The Castle was built in 1068 by the Normans as a defence.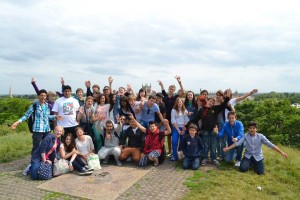 Whilst our students are studying on their Junior English Courses in Cambridge, we think it is important to offer them some cultural activities. As well as having fun they learn a little more about English History and Culture. as you can see from the picture above it looks like they had a lot of fun!
This week they are visiting Ely, a town just North of Cambridge, also full of History! Photos to follow in a future blog!