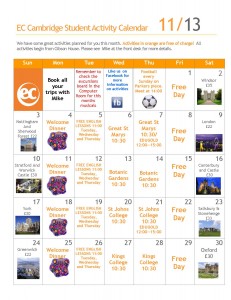 November sees the return of one of our most popular activities, Great St Mary's church and Tower. Climb the church tower to get some of the best views of Cambridge City Centre, Kings College and the Market Square. Its free with EC Cambridge!
We also have our Free English Lessons, book club, job club with Edugold, football practice and some visits to some fantastic Cambridge sites such as the Botanical Gardens, Kings College and St Johns. All of this is FREE!
Also we have some great excursions, look out for West End shows, day trips to many UK cities and a special Beatles themed tour of Liverpool!
And don't forget, check out Facebook for any last minute activities and changes!
Have a great month!