If you are looking for an English Language Course why not come and study English in Cambridge. Cambridge is home to one of the best Universities in the World and is steeped in history. You can visit some of the amazing college buildings such as Kings College. You can walk in the footsteps of some of the Worlds best known, academics, Scientists and celebrities.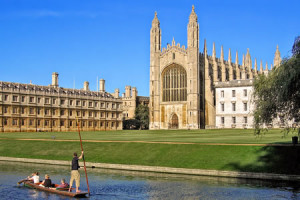 Cambridge is also home to Cambridge ESOL exams such as FCE, CAE and CPE. And there is a high chance you have read a book printed at Cambridge University Press. Chuck in a punting trip down the river Cam, a walk to Granchester for a traditional English Cream Tea and you have a fantastic location to study English in the heart of England.
At EC Cambridge, we offer a range of courses to suit the needs of our students. Our General and Intensive courses provide a perfect basis to develop and brush up your English language need. We also offer exam preparation courses for both Cambridge ESOL and IELTS. If you want a more specific course we can also provide one to one classes.
We offer a free activity programme, including cultural, historical, academic and fun activities. We also have an extensive excursion programme with weekend trips to Scotland, Wales, Liverpool, Amsterdam, Paris to name a few and day trips to some fantastic cities such as Oxford, London, Bath, Stratford, Stonehenge. West End shows in London are also available as well as The Harry Potter Studios, Go Karting and Paintballing amongst others. We also get tickets to Football matches and concerts.
If you want to know more about our courses, check out our website or send us an email, Cambridge@ecenglish.com