Meet Hyejin. Hyejin is currently studying on an Academic Year English Course in Cambridge. She is also a student ambassador for EC Cambridge, helping our new students and current students with any general questions or problems. Here she tells us a little about why she came to Cambridge and her role as an ambassador. Enjoy!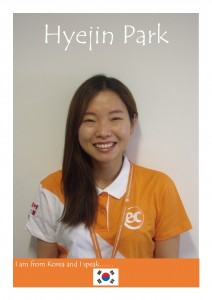 I came to EC after leaving my job in Korea. I wanted to improve my English but found that with schools in Korea I could not improve my speaking. Therefore I made the decision to study in the UK.
I decided to study for three months originally but I have now been here for 8 months. I wanted to stay longer and decided to take the FCE exam.
I have been here for a long time. It means I know classes, teachers and Cambridge well. I thought I could help other students, Especially Asian students. They tend to stay here longer than others. I wanted to help them to get used to this life easily.
As a school, EC is fantastic. First of all, I like staff of the school. They are so friendly and want to make students amused. Secondly, student house is nice. there are 3 student house at the moment. I am staying in one of them. we are like family. if it it's someone's birthday, we celebrate together, someone has problems we comfort him or her. Although some my housemates left and I cried a lot when they did, I am so happy to have met them.