Meet Max. Max teachers our Cambridge IELTS classes at EC Cambridge. Here is tells us a little more about teaching English and Cambridge. Over to you Max…..
I have accrued many years of experience in teaching. I have taught in Primary schools in London, English GCSE, English Language and Literature A levels, Philosophy A levels, Pre-Masters Foundation courses in 6th Form Colleges, Italian at King's College (Cambridge University), and at UCL (University College London).
In the last 10 years I have enjoyed preparing foreign students to take their IELTS exam in order to access English speaking universities. I have also worked with asylum seekers in London and with American teenagers as a Tourist Guide and Tour Manager around Italy.
At EC I teach EFL/ESOL (PET, FCE, CAE, CPE, BEC), EAP (IELTS)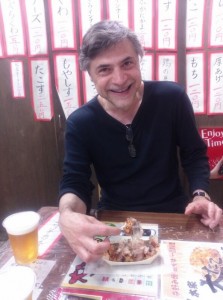 I have worked and taught in London, in Italy and in Turkey and now in our prestigious Cambridge. I like travelling and, among other places, I have been to South America, the USA, China, India, Russia, Mongolia, Korea, Japan and Malaysia. I speak Italian and Spanish fluently and play the guitar and the piano (less 'fluently'  ). I also like painting (but – attention – only as an amateurish hobby: i.e. I'm pretentiously rubbish at it). Still on the artistic side, I have published 7 collections of poetry (hoping for the Nobel).
– I consider myself a learner even more than a teacher.
– My colleagues will tell you that I can be quite annoying. I can only agree. What can you do? To each one, their own skills.
– My students will tell you that after having experienced my classes, they have grown critically and emotionally. Don't believe it? Just ask them.
My heroes: my Louise, the Beatles, Pablo Neruda, Vinicius De Moraes, Shakespeare, TS Eliot, Dante, Marcel Proust, Godot (I'm still waiting), Socrates, Leonardo,  Michelangelo, Kandinsky, James Joyce, Pelè, my children, and my students.
I love having a cappuccino and being a flaneur in foreign cities. C'est tout. A bientôt.
Xie xie for your attention. Wo dè tiān ā !   我的天啊 !