Teachers doing tutorials with their students this morning using *EC Online!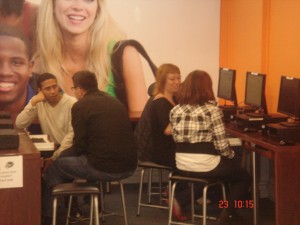 *EC Online, free of charge to all our current students, is an online learning system for improving their English! Students are able to access an archive of study materials which adapt to their level of English and track their progress! Students can also
* find information on Cape Town
* view all upcoming events at the school
* submit forms- such as holiday requests, bank letter requests, change of details & more
If you are an EC Cape Town student and want to log in:
– Go to http://www.ecenglish.com
– Click on 'EC Online' at the top of the page
– Log in with ecsa + your student number found on your student card (e.g. ecsa1234) as your username & password
If you have any questions about how to use EC Online, please see Claudia at reception!
Comments
comments