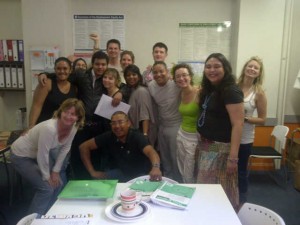 Today we said good bye to 2 very special students – cousins from Angola, Ricardo Pina and Helmer Santos.
When they arrived almost a year ago, as Academic Year students, they were Complete Beginners and away from home for the first time. In the time they were here they were taught by virtually every teacher at EC Cape Town and therefore have left a lasting impression on all our lives. We are all very proud of both of them who both exited at an Intermediate level and will commence 2013 in a mainstream South African high school!
Helmer and Ricardo, we all at EC Cape Town wish you all the very best for the future. We will never forget you, your dedication and sweet smiles!
Good Luck!
( in the photo, Helmer is 2nd from the left and Ricardo is 4th from the right )
Nicoletta – DoS
Comments
comments