Today teacher Warren conducted class tutorials with his Elementary class. What are tutorials and what are their purpose?
Class Tutorials are a vital part of an EC students' English language studies. Every 4 weeks they are given a chance to evaluate themselves. They reflect on their own progress, where they have excelled and where they still need to develop. Learner autonomy is also assessed and students can highlight what they are doing to increase their progress and improve their learning experience. With that teachers conduct one to ones ( tutorials ) with their student. The self-evaluation is discussed with the teacher and they are given valuable recommendations as to how to continue progressing and maintaining what they have learned. A copy of the tutorial with the self-evaluation and recommendations by the teacher is given to the student for reference.
This is a perfect opportunity for students to voice concerns they may have and ask for guidance and for teachers a valuable moment to discuss anything that may be pertinent to the student. Many more holistic matters are also taken care of, such as home-sickness and culture shock which are real issues and can be detrimental to a students' experience.
Tutorials are more than just a chat with a teacher, they help to guide and motivate.
Nicoletta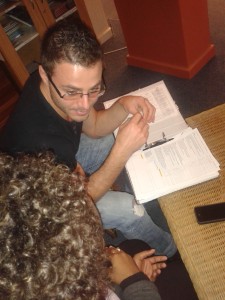 Comments
comments