Students in Nicoletta's Intermediate class had to share their favourite recipe from back home. The task was not only to use linking sentences but also to promote cultural diversity in the classroom. Check out some recipes below:
Cheese Fondue
by Daniel- Switzerland
2 Garlic Cloves, cut in half
250ml Dry white wine
225g Gruyere cheese, shredded
225g Emmentaler cheese, shredded
15ml Cornstarch
30ml Kirsch
2ml Nutmeg
Paprika and Pepper.
– Rub the garlic inside the fondue pot then discard.
– Pour the white wine into the pot and turn on the burner.
– Let the wine warm up without boiling.
– Reduce the heat and add the shredded cheese.
– Dilute the cornstarch in the kirsch, and add the remaining ingredients to the pot.
– Add pepper to taste.
– You should have a little more wine and cheese on hand to adjust the consistency if needed. Add more cheese if it's too liquid, add more wine if it's too thick
– Dip bite size of bread or potatoes .

White Beans
by Lionnel- Democratic Republic of Congo
2 cups of white beans (cooked)
3 table spoon olive oil
1 table spoon tomatoes
2 onions (chopped)
2 red peppers (chopped)
2 tomatoes (diced)
1-4 cup of water
1 tsp salt
1 tsp pepper flakes
1 tsp ground black pepperand if you like spicy food use dried chili peppers.
Beans must stay in the water at night. Next day put in the beans a pressure cooked, boil them. (40-45 minutes)Add
the water (after tomatoes paste)and the other ingredients. If you use the dried chili peppers, put them in the top
Enjoy your meal 🙂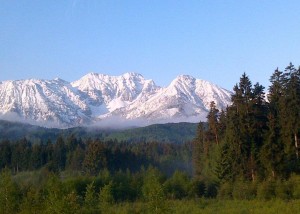 Comments
comments