Yesterday, I shared Murat Koç's piece, A Taiwanese guy…from a Muslim eye where he wrote about his friend, Yank Lai from Taiwan. Murat was touched by his friend's gesture of taking time off school to celebrate this auspicious day with his Muslim friends. Today, I present Yank's story! Also an AY student, he has proven to be quite the popular one with both staff and students at EC Cape Town. Always respectful and polite, Yank is a shining example of an EC student – yet another young gentleman who is succeeding in a global community. Enjoy his piece and as always, please feel free to leave your thoughts and comments. Enjoy!
~Sheetal Makhan / AYC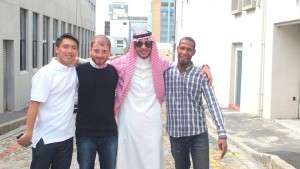 "Eid" from Taiwanese eyes
by Yank Lai
Muslim people have two Eids in a year, one was named Eid Al-Fitr, another one was named Eid Al-Adha. They are two of the most important celebrations in Islam. I would like to share my experience of joining Eid Al-Adha.
In Eid Al-Adha, all the Muslim people of around the world traveled to Makkah, that is holy place for Muslims in Saudi Arabia. Muslims have to pilgrimage to Allah once in their life . This kind of worship to Allah is for six days. They sacrifice sheep, cows or camels for Allah and slaughter them. After slaughtering, they divide their meat to eat, to give neighborhood or friends, and also donate to poor people .
I haven't had any Muslim friends before I came to South Africa . So, I didn't know anything about Muslim celebration. My friends of EC are from different countries like Turkey, Libya, Palestine and Saudi Arabia and they are all Muslim.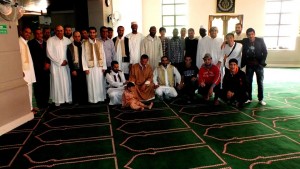 On the day of Eid, I got up so early. I knew Muslims were used to wear white dress for specific days. So I wear the white shirt as well to join this celebration. I was very exciting to go. Murat was waiting for me. When we arrived in Mosque, there were so many Muslims already inside at 08:30. At the moment, they were starting to pray. This was my second times to see the praying in the Mosque. This was so amazing, before they pray they sit everywhere on the carpet in the Mosque.
When the pray started, everyone stood in a line together and said something very seriously about praying. I can't lose this scene so I was taking a lot of photos of them. After praying, I saw everyone was very happy to shake hands and hug each other. They said wishes to each other. And I was joined them to celebrate it, of course I took a lot of photos of them as well.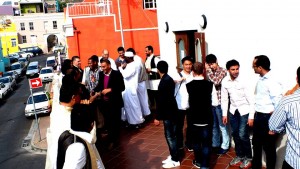 After Mosque, we went to see other activities like slaughtering sheep in Bo-Kaap. There was a grass place and some camps. They dug a hole in the ground and slaughtered the sheep on the table. I was very shocked, because we can't slaughter any animal ourselves because it is illegal in my country – you must have the licence before slaughtering the animals.
There were many people were excited and scared to watch all the duration. There were also children and women who stood there. I was very scared too, so I was standing out of camp, I couldn't look at the slaughter, but I saw some women who were frightened and put their hands on their face and open her eyes, but they were still watching all the duration while the Imam (prayer leader) was reading the Holy Quran. The sheep was slaughtered then they divided it.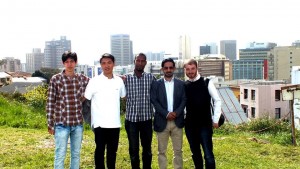 It is a very different culture. I haven't seen a sheep slaughter before. I heard this celebration used to take a week, but South Africa is not an Islamic country, so it was quite short.
After this celebration, I would like to share my feeling about this experience with all of my friends. Muslims focus on their behavior and mind. I heard about this before, but I never saw it, but this time I observed Muslim behaviour for a long time.
They are very kind and concentrate on their behavior. They always improve themselves every day. In my observation,they care about themselves (honest, faithful, trustworthy, polite , kind, humble, merciful, ethical…) They respect everyone. They respect grand Allah, the food is clean or not, they know what they have to do and  what they cannot to do.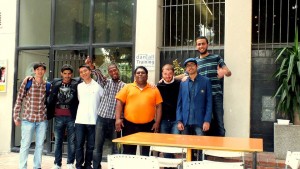 Friends, I would like to say we live in busy days. Have you closed your eyes and listened to your heart ? Even a quite busy day, Muslim close their eyes, very quiet and calm, peace, pray for 5 times everyday .
TRY to know and understand about Islam World because it will impress you so much.
I appreciate to have this chance to be affected by this experience about a specific celebration of Islam by all my Muslim friends.
Comments
comments